When cryptocurrency exchange FTX filed for bankruptcy this month, conservatives smelled blood in the water, given its 30-year-old founder Sam Bankman-Fried had been a Democrat super-donor who received sometimes fawning coverage from a mainstream media the right has for years accused of leftward bias.
Bankman-Fried had made multi-million dollar donations to progressive media firms and causes favored by the left through what he called "effective altruism" and had become the biggest Democratic donor behind billionaire George Soros.
Conservative criticism was spurred further by Bankman-Fried's comments on being a "woke westerner" playing a "dumb game" in a recent interview with Vox, one of the outlets whose work he had helped to fund, and which appeared to put in question the statements he had made on issues such as social justice and fighting climate change.
"You were really good at talking about ethics, for someone who kind of saw it all as a game with winners and losers," Vox reporter Kelsey Piper told Bankman-Fried in a tweet.
"I had to be," he responded, adding: "It's what reputations are made of, to some extent. I feel bad for those who get f***ed by it … by this dumb game we woke westerners play where we say all the right shibboleths and so everyone likes us."
Conservative media leapt on the comments, which chimed with long standing accusations from the right that corporate commitments to "woke" causes are not only inappropriate from a political perspective and bad for investors, but that they are also a sham.
"Bankman-Fried admits woke 'effective altruism' is an act," said Breitbart News.
"The fawning media will hate reading what he said almost as much as (Bankman-Fried's) lawyers," posited The Daily Wire in a story headlined, "Shameless media just can't quit love affair with crypto creep SBF," using Sam Bankman-Fried's moniker.
"Effective altruism gives you a moral cover as you rip off investors in order to live tax-free in splendor in some beachfront paradise," Tucker Carlson said at the top of his Fox News show on November 17, referring to Bankman-Fried's $30 million penthouse in the Bahamas, where FTX is headquartered.
Bankman-Fried did not respond to Newsweek requests for comment.
"The effective altruism that Democrat mega donor Sam Bankman-Fried peddled is perfectly in line with the radical left's efforts to redefine corporate purpose," said a statement from Congressman Andy Barr of Kentucky, the leading Republican on the Financial Services Subcommittee on National Security, International Development and Monetary Policy. He noted that the House Financial Services Committee, under Democrat Maxine Waters of California and Republican Patrick McHenry of North Carolina, would soon hold hearings to figure out what went wrong.
While FTX's business collapsed, it did score very highly on one metric – it's Environmental, Social and Governance score. Being able to demonstrate such scores has become an increasing priority for some investment funds keen to show that businesses they invest in are responsible.
Barr said that one of his goals with the FTX investigation would be to "hold regulators accountable for being asleep at the switch, obsessing about 'climate risk' instead of actually protecting investors."
Bankman-Fried's donations went largely to liberal politicians and Political Action Committees, with $27 million going to Protect Our Future PAC, which bills itself a nonpartisan organization dedicated to preventing future pandemics, though all of the political candidates it gave money to in the recent mid-term elections went to Democrats. Bankman-Fried gave a much smaller amount to some Republicans.
Media coverage of Bankman-Fried has come in for strong scrutiny from the right, with critics picking over the way left-leaning publications had appeared to take the former billionaire at his word.
"Gushing magazine profiles"
The self-proclaimed libertarian Reason magazine wrote of the "countless gushing magazine profiles" that Bankman-Fried received, linking to a Fortune magazine cover with his photo along with the question: "The Next Warren Buffett?"
Bill Maher, once aligned with the liberals, said November 18 on his HBO show, Real Time, that the FTX debacle is owed to the notion that, "As long as you're on our team, we don't care." He noted that only Soros gave more to Democrats, and said of Bankman-Fried: "They loved his ass … he donates to our causes; we don't need to look too hard into the fact that he's a con man."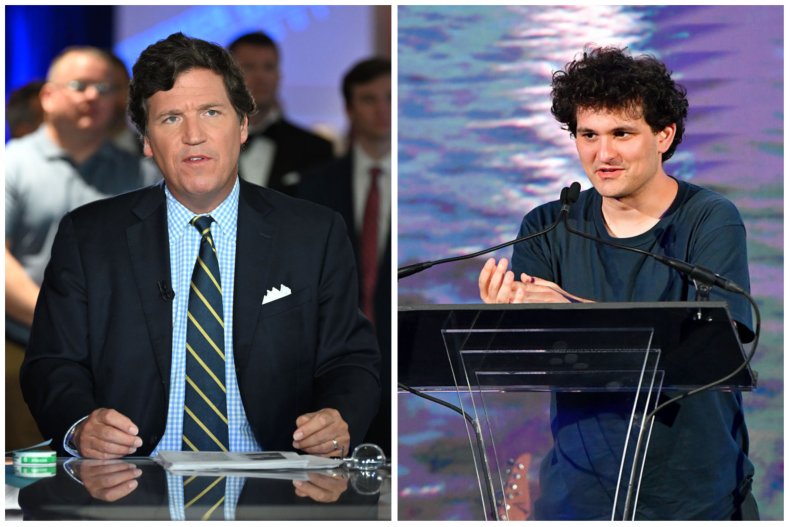 Bankman-Fried founded FTX in 2019 and within two years boasted of 1 million users buying and selling cryptocurrency. Celebrity investors included sports stars such as Tom Brady, Shaquille O'Neal and Stephen Curry, along with Kevin O'Leary, known as "Mr. Wonderful" on the TV show, Shark Tank.
At its peak, as recently as 10 months ago, the company was valued at $40 billion. Things began going haywire when the value of its own digital currency, FTT, began to plunge, spurred in part by an announcement from a rival firm, Binance, that it had reviewed FTX's balance sheet and was therefore selling all of its FTT.
As users tried to cash in their crypto holdings, it caused a version of a "bank run," with FTX unable to pay billions to its customers.
John Ray III, who was appointed CEO of Enron after the energy company famously collapsed 21 years ago, has been appointed CEO of the bankrupt FTX. He said in court documents that in his 40 years of restructuring experience he'd never seen "such a complete failure of corporate controls and such a complete absence of trustworthy financial information as occurred here." He marveled at the concentration of control "in the hands of a very small group of inexperienced individuals."
When Bankman-Fried was worth billions, he had pledged to give at least $100 million to progressive causes, and grants worth millions were awarded to media outlets Vox, ProPublica, The Intercept, The Law & Justice Journalism Project and Semafor, a startup co-founded by Ben Smith, the former editor of Buzzfeed and former media analyst for The New York Times.
Conservatives have been noting that mainstream outlets such as Bloomberg reported on Bankman-Fried's "Robin Hood-like philosophy," while guests on CNBC called him "the Michael Jordan of crypto" and a host referred to him as "a floppy haired, vegan, fidget-spinning crypto billionaire who occasionally sleeps on a beanbag chair."
Conservatives also accuse mainstream outlets of ignoring FTX's perilous business dealings and focusing instead on his cult of personality and willingness to fund worthy causes. The New York Times profiled Bankman-Fried in May, noting his pledge "to give away virtually his entire fortune, which currently stands at $21.2 billion." In an earlier article, the outlet wrote that he was "a prime example of a new kind of billionaire," recording that in 2011 during the Occupy Wall Street protests he was an M.I.T. student contemplating effective altruism, "a philosophy that supports applying data and evidence to do the most good for the many."
After the FTX meltdown, The Washington Post earned the opprobrium of conservatives for calling him a "utilitarian — a doctrine holding that the most ethical choice is the one that does the most good for the most people."
The Times did not respond to Newsweek's request for comment, while the Post told Newsweek when asked about its coverage of FTX that it has "not received donations — from this source or any other."
ProPublica president Robin Sparkman told staffers that the outlet "signed a grant agreement with Building a Stronger Future, a foundation funded by Bankman-Fried, to support our ongoing investigative work on pandemic preparedness and bio threats." The note to staffers says $5 million was received in February and the remaining two-thirds of the grant are on hold.
The Intercept told Newsweek it received $500,000 from Building a Stronger Future for similar coverage, but the rest of the $4 million grant is on hold. Vox said its money from Bankman-Fried was to "support a project on technological and innovation bottlenecks that hamper human progress," though the initiative "is now paused." The Law & Justice Journalism Project did not respond the Newsweek's request for comment. Nor did Semafor.
Columbia University Business School professor Ciamac Moallemi doesn't believe that Bankman-Fried was attempting to buy favorable coverage, but simply believed in the causes he was funding.
"He didn't give money to The New York Times or the Wall Street Journal, and they didn't write anything negative about him," he noted. "He was definitely enabled, but not so much by politicians, as he already had vast resources by the time he met them. The venture capitalists played a bigger role. They're real experts who added a lot of validation, and certainly the press was not skeptical, because he told stories that made sense, so nobody dug in."
Eric Matthews, a money manager with clients in the entertainment industry has been advising against crypto in general for years, sometimes to no avail, he told Newsweek.
"We're living in a time of compelled speech, compelled investing with ESG, compelled eating with Beyond Meat and compelled money-chasing with crypto," he said.
"None of it ever added up," he said. "Then you look at all the sponsorship and endorsements everywhere. That was completely unearned. They went from no money and hardly any capital in 2019 to financing arenas, sponsoring entire sports leagues, to getting the biggest athletes and models on the planet. All done with basically no revenue?"
https://www.newsweek.com/ftx-crypto-debacle-fuels-conservative-attacks-woke-business-1762564